Tsawout Bighouse Golf Fundraiser
SOLD OUT!
Thank you for your interest in supporting this project, and participating in this event.
Unfortunately, all tickets have been sold and we are fully booked. We look forward to more fundraisers in the future.
HÍSW̱ḴE (Thank you).
Become a part of our story and join us for a unique experiential afternoon featuring 9 holes of golf, games, gourmet food and drinks at the spectacular ARDMORE GOLF CLUB.
As dusk falls, enjoy a Gala style dinner complete with live entertainment, exciting awards, prizes and an auction with unique Indigenous art – all while helping us raise $100,000 towards RAISING THE BIGHOUSE for the Tsawout First Nation.
DATE: THURSDAY, SEPTEMBER, 30th at 1pm.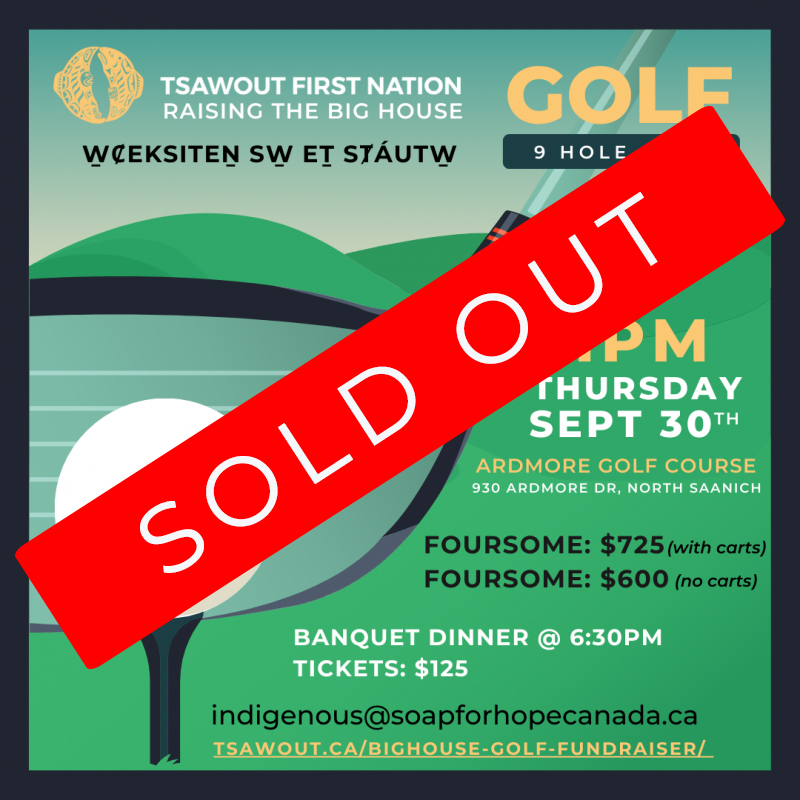 Tsawout Bighouse Sponsorship Information
BECOME A PART OF OUR STORY
A unique cultural and social preservation and revitalization project is taking place on Vancouver Island. The SȾÁUTW̱ people (pronounced say-out, also spelled Tsawout), are rebuilding their cultural home after a decade without it. After the destruction of their previous longhouse in a devastating fire in 2009, work is well underway to raise the new house.
This is an important step forward for the wellbeing of the community, and an exciting opportunity for the surrounding community to come together and support this historic event.
Scroll through the images below to learn more about the exciting sponsorship opportunities.