Fish Talk – with Richard Underwood
Hi everyone, we have been very busy here in the Tsawout Fisheries Department since I have started working over this past summer. We are actively involved with the Goldstream salmon hatchery, we have had one training session for a handful of our members that have taken the PAL/RPAL course, and we have scheduled training courses coming up for November that will allow for future opportunities for some of our Nations members.
On a weekly basis we have a helping hand at the Goldstream Salmon hatchery. The salmon hatchery helps improve and enhance the number of salmon in Goldstream which is also a food source for our people. We have also placed a ladder/fence system at Goldstream recently. This will help us when we take in more brood stock of Coho, as well as have a good count each year on the return numbers.
On September 14 th and 15 th we hosted a PAL/RPAL course here at Tsawout. Each person who had attended were successful in passing their tests. I hope this is a big help for some of our communities' fishermen and hunters to help them as they seek to provide food for their families. Coming up just a short time away for November, we will have a few training courses that had been postponed from the end of September. The courses were Small Domestic Vessel Basic Safety (SDV-BS), Small Vessel Operator Proficiency (SVOP), and Restricted Operator Certificate- Maritime (ROC-M). These courses may give some of our members the potential for future employment in various marine related job opportunities.
There will be more work to come, and we are excited to continue learning as we progress for Tsawout Fisheries.
HISWKE,
Richard Underwood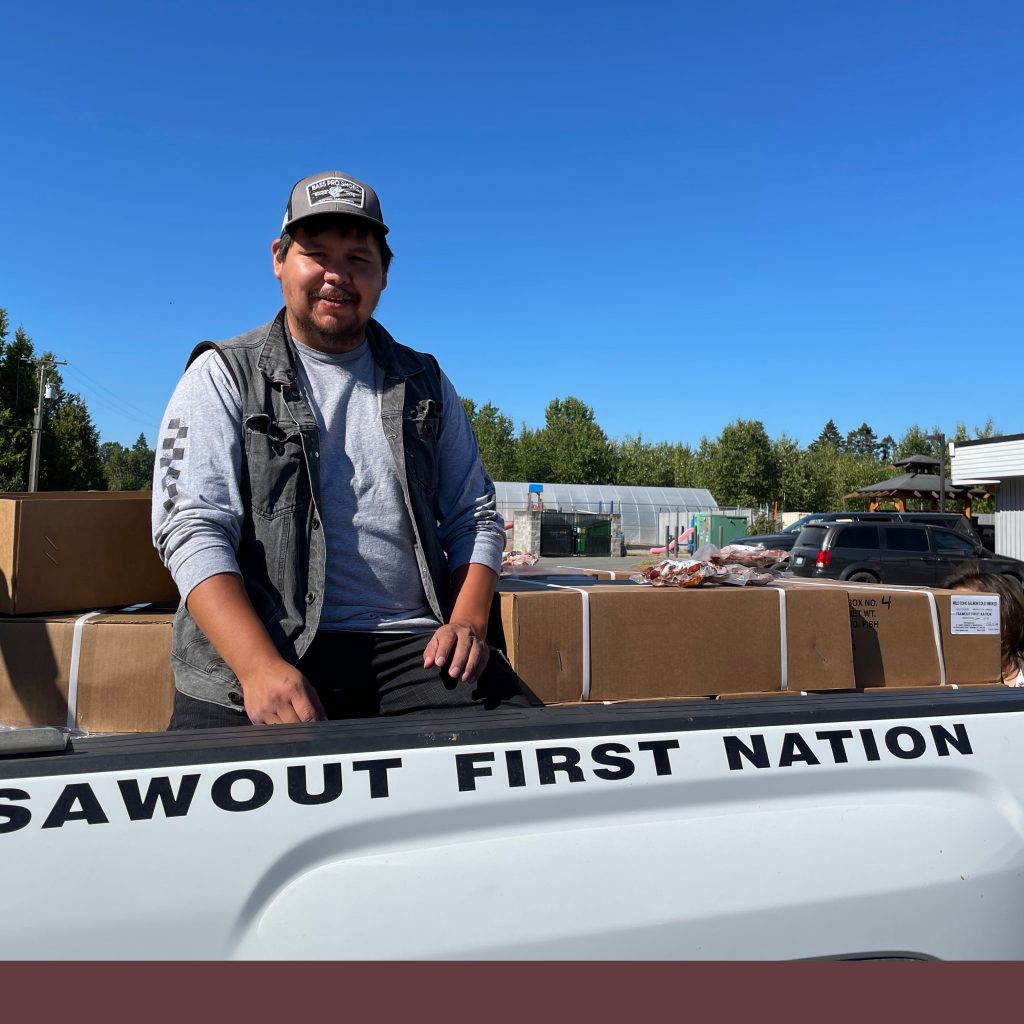 Fish Talk – with Reanne Askham
Tracking Dungeness Megalopae Larva in Salish Sea: LIGHT TRAP PROJECT
As Dungeness crab are very important to us, we would like to better understand our threatened species by using a light trap to monitor populations and factors of survival. Future restoration and management opportunities rely on our data collection to raise a voice and we are on our way to help speak up on the priority level of conserving and protecting Dungeness crab. To kick off this project, we are currently strategizing by picking trap locations within our territory, so we are ready for the 2022 April to September Dungeness larval recruitment period.
Site Visit & Restoration Work: SEA GARDENS
We made our way over to Cabbage and Russell Island with Aaron Sam, Rob Sampson, Tom Smith and Parks Canada to help with consistent restoration activities for enhancing health and productivity within our sea gardens. Cleaning the beach, turning sand or maintaining rock walls; it is pivotal that we continue down this path of care techniques for current and future objectives as it is our responsibility to manage, protect and restore. We will continue to work together, and our efforts are limitless!